Profile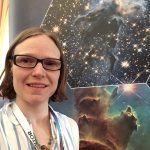 Joanna Barstow
Curriculum Vitae
Education

Lady Margaret Hall, University of Oxford, Oxford, 2008 - 2011 Churchill College, University of Cambridge, Cambridge, 2004 - 2008 Lutterworth College, Lutterworth, Leciestershire, 2000 - 2004 Thomas Estley Community College, Broughton Astley, Leicestershire, 1997 - 2000

Qualifications

DPhil in Planetary Science, 2012 MSci in Natural Sciences (Experimental and Theoretical Physics), 2008 A levels in Drama and Theatre Studies, English Literature, Maths, Music and Physics, 2004 GCSEs in Art, Biology, Chemistry, Design and Technology, Drama, English Language, English Literature, French, Maths, Music and Physics

Work History

Royal Astronomial Society Research Fellow, University College London, London 2016 - date Postdoctoral Researcher, University College London, London, 2016 Postdoctoral Reseacher, University of Oxford, Oxford, 2011 - 2016 Summer research intern, University of Leicester, Leicester, 2005 - 2008 (summer holidays only) Retail assistant, De Bradelei Mill Shop, Lutterworth, Leicestershire, 2002 - 2004

Current Job

I am currently a Research Fellow sponsored by the Royal Astronomical Society (RAS), working at University College London. That means that the RAS is sponsoring me to complete a research project that I designed and proposed. The project is about looking at how the atmospheres of planets are affected by the light they receive from their parent stars, especially for planets that have very tight orbits and get lots of light.

Employer

I work at University College London, which was the first university to be established in London.
Favourite thing to do in my job: Talking about research and sharing ideas with colleagues

About Me: I'm a sciencing, singing toddler mum. I love planets, good books and show tunes.

Read more

I live in Ruislip, Greater London with my husband and our daughter, who is almost three. My parenting superhero skill is that I know all the words to every song from Frozen and most of the dialogue too. I sing in my local church choir on Sundays and used to perform as part of Ruislip Operatic Society before my daughter was born – my highlight was playing Sister Mary Robert in Sister Act.

I like wearing space fashion and also enjoy drawing cartoons based on my work. I love reading and I am a huge fan of Terry Pratchett's Discworld series.

My Work: I look at planets that orbit other stars. I use telescopes to search for fingerprints of important chemicals like water, to work out what these planets are made of. This helps us to learn whether there are other worlds out there that are like the planets in our Solar System.

Read more

I'm a planetary scientist, which means I study planets other than the Earth. At the moment, I mostly look at exoplanets, which are planets that orbit other stars. Being able to study these planets is something we've only been able to do quite recently, and they are too far away to send spacecraft to visit them, so we don't know as much about them as we do about our neighbours like Jupiter and Venus.

In fact, most of the time we can't see an exoplanet at all, because it's a long way away and the star it orbits is much, much brighter. We often find an exoplanet when it passes in front of its star and blocks some of the starlight, making the star to appear less bright. A tiny bit of the starlight also passes through the gas that surrounds the planet – its atmosphere – and when this happens, the gas absorbs particular colours of starlight, leaving a fingerprint that tells us which chemicals are present. We can see this using telescopes like the Hubble Space Telescope. The picture of Hubble below was taken by one of the astronauts on a mission to mend and improve the spacecraft.

Have you ever eaten a really good cake in a cafe somewhere, that was so good you really wished you could make it for yourself, but you didn't know the recipe? If you're someone who has made lots of cakes, you know how cakes usually work and the sorts of things that go into them. You could keep experimenting with different amounts of ingredients until you make a cake that tastes like it should. Getting the right taste for the cake tells you that you used the right ingredients.

I use a very similar process to work out what exoplanets are made of. Because we've been able to send spacecraft to get a really good look at the planets in our Solar System, we know what sorts of ingredients we need to make a planet's atmosphere. I use different amounts of likely atmosphere ingredients to make a range of computer models, then I compare them with observations from telescopes like Hubble. If the model doesn't look the same as what we observed, my computer program will keep changing it until I get something that looks right. When the end result looks right, the ingredients I used are probably right as well!

Below is a sketch of how this works. What we see in the real planet is the white wiggly line. The three models produce the blue, green and purple lines. Only the green line has all the same wiggles as the white line, so the green model is the correct one.

My Typical Day: I get up and get my daughter ready for nursery. After I've dropped her off, I take the underground into central London to go to my office. I spend most of the day at my desk using my computer to make my models, or writing up some of my results. I will often have a meeting with a student, when I will help them with what they are doing and give them advice. We might also have a scientist visiting from another university to talk to us about their work. I then take the train home and go to pick my daughter up from her nursery.

Read more

6:45 – 7:30 am: wake up. I usually get woken by my daughter. If she doesn't wake me my alarm usually goes at 7:30.

7:30 – 8:30 am: get up and get daughter ready for nursery, and take her to nursery.

8:30 am – 9:30 am: – travel to work. I catch up on email or read during my journey.

9:30 am – get to my desk. I share an office with three other researchers, and we all get on well, so it's a friendly office (but it has four Marmite jars too many in it thanks to one of my colleagues…). Usually the first thing I do is finish reading my email and respond to anything that requires an answer.

This is my desk. I can work pretty much anywhere though, as long I have my laptop and coffee!

10:00 am – meet with my student to talk about his progress.

11:00 am – 12:30 pm – work on modelling some observations from a large team working together on observing with the Hubble Space Telescope.

12:30 pm  – 1:00 pm – have lunch, usually in the office kitchen with colleagues and students.

1:00 pm – 2:30 pm – work on writing up a paper on some of my results. A paper is an article written for a journal (a sort of scientific newspaper) that is the main way professional researchers share their findings.

2:30 pm – 3:30 pm – dial in to a teleconference for a new telescope, called ARIEL, that is being developed to go into space in 2028. We are working on writing planning documents to submit to the European Space Agency early next year.

3:30 pm – 4:45 pm – write homework questions and answers for the course I'm teaching on exoplanets and habitability.

4:45 – return home on the train. I usually read or carry on answering work email, or plan for the following day's work.

5:45 – pick up my daughter from nursery.

6:00 – 7:30 – eat dinner, play with my daughter.

7:30 – 8:30 – bathe my daughter and put her to bed.

8:30 – 9:30 – continue working on models in preparation for the following day

9:30 – 10:30 – relax for a bit and then go to bed

What I'd do with the prize money: I would use the money to develop the 'exoplanet lab' - an online platform hosting resources for schools to teach key skills, using real exoplanet observations.

Read more

I have previously run school workshops aimed at Key Stage 3 students, which is aimed at improving their skills in mathematics and science. Graphs showing exoplanet detections can be read relatively easily, and information such as the planet's size and mass can be recovered from the values from the graph. For younger students, conversion tables can be provided relating the values from the graphs to the information we want. Older students can be encouraged to work through some of the maths indepedently.

I plan to develop an online platform hosting a series of lesson plans, incorporating real exoplanet observations in this way. I will use some the money to support school visits, during which I will try out and perfect the lesson plan structure. I will then use it to pay for web hosting for the materials, and resource development where specific illustrations are required that I am unable to provide myself.

The initial lesson plan will be aimed at Key Stage 3, with more challenging extension options for GCSE and A level students. It will be designed as a stand-alone resource that can be delivered by teachers and used to teach examinable skills through the medium of exoplanet science.

My Interview

How would you describe yourself in 3 words?

Analytical, musical, mum!

What or who inspired you to follow your career?

My Dad is an astronomer, and I also had some fantastic physics teachers who really encouraged me to pursue it.

What was your favourite subject at school?

Drama

What did you want to be after you left school?

I changed my mind a few times. Aged 10 and younger, an author. Between 10 and 15, an actress. 16+, what I do now!

Were you ever in trouble at school?

No, I was a good girl (sorry!)

If you weren't doing this job, what would you choose instead?

(Highly unrealistically) a West End superstar!

Who is your favourite singer or band?

I love The Killers, but it's hard to pick just one.

What's your favourite food?

Really good sushi is unbeatable.

What is the most fun thing you've done?

Visited the Galapagos Islands on my honeymoon.

If you had 3 wishes for yourself what would they be? - be honest!

I would wish for: 1) a lectureship position somewhere; 2) my daughter to sleep through the night every night; 3) a grand piano (with a room to put it in)

Tell us a joke.

Helium walks into a bar. The bartender apologises and explains they don't serve noble gases. Helium doesn't react.
---
---